MARTIN LAWRENCE LAKE DISTRICT AND LANDSCAPE PHOTOGRAPHY
Since I was in my teens, I have been obsessed with wildlife and the countryside. Realising this, my parents bought me my first camera, a Pentax Program 'A', which I still have today. What can I say? I was hooked and my photography journey began. Once you take up photography, you start to see the world through different eyes and for many years I spent all my free time away from my job in IT wandering the spectacular Scottish and Lakeland mountains with my camera in hand. It was such a privilege to be able to capture the scenery and wildlife that I loved so much.
I decided to turn professional in 2005. It's a great life when you can get out and 'smell the roses' and get paid for it as well. The beauty of my job is that you see the world in all its seasons from winter snows and frosts with crisp clear light to spring's early fresh colours and from summer's warmth and early morning reflections to autumns rich red colours. How can you not love being a landscape and wildlife photographer!!
I currently exhibit my work at several galleries in the Lake District and in Lancashire, supply images for calendars, websites and brochures and contribute to stock libraries. I also write photographic tutorials for magazines and photographic websites including my own. My work has been published in several prestigious magazines including Lonely Planet, Countryfile, Cumbria, Cumbria Life and Photography Monthly and also appeared on many websites both at home and abroad. One of my images was used for a Virgin Rail campaign and appeared in tube stations throughout London and in many daily newspapers. I undertake Commercial work and find this to be a very interesting and rewarding part of my job as it allows me to get around to other parts of the country that I would not normally visit.
In 2008, I introduced One to One and Small Group Digital Landscape Photography Workshops. These have proved to be extremely popular with photographers looking for more individual attention that focuses solely on their needs rather than those of a large group. I have had some great feedback from photographers of all levels of experience looking to improve their technique, learn a new skill or get to grips with a new camera.
I live in leafy Broughton on the outskirts of Preston with my wife Sheila who helps me to run our business. We also own a pine lodge at Bassenthwaite near Keswick where we spend much of our free time and which I use as a base for my photography workshops. My two daughters, Debbie and Rebecca, both live and work in London but take every opportunity they can to return 'up north' to their roots and enjoy a day out in the Lakes followed by a meal in a great Lakeland pub.
I love to take road trips to the USA, spending time in the spectacular national and state parks of Utah, Arizona, California, Wyoming and Colorado. The Grand Teton National Park is a particular favourite of mine. I have also travelled extensively throughout Europe, Iceland and the Far East. South America, in particular Patagonia and a Safari in Africa also beckon.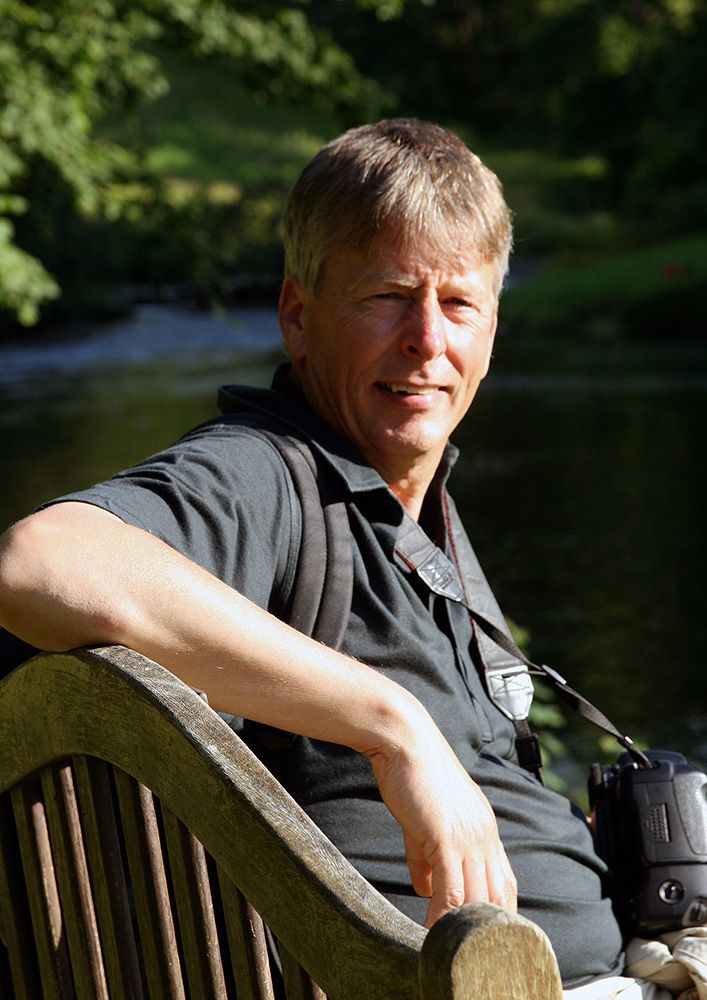 Kit List
Canon EOS 5D Mk 3

Canon EOS 5D Mk4

Canon EOS 1DX Mk 2

Canon EF 16 - 35mm f2.8 L USM Wide-angle lens

Canon EF 24 – 105mm f/4 L IS USM Zoom lens

Canon EF 100 – 400mm f/4.5 – 5.6 L IS USM Zoom lens

Canon EF 100mm f/2.8 USM Macro lens

Canon EF 500mm f/4 IS USM Mk 2 lens

Canon Extender EF 1.4 X III

Manfrotto 055 PROB tripod with a Benro GH2 Gimbal head

Manfrotto 190CxPRO3 tripod with an 804RCT 3 pan-tilt head

Canon RS80 remote switch and Hahnel Giga T Pro II Wireless Timer Remote

A set of Lee 100mm soft ND graduated filters, Lee Big and Little Stoppers and a Lee 100mm Polarizer

A set of Cokin soft ND graduated filters and Nuance ND graduated filters

Sandisk Extreme PRO 64GB CFast 2.0 CompactFlash card for wildlife

Lowepro Orion Trecker and Tamrac Expedition 5