Photography locations around Basssenthwaite Lake
Posted on 21st June, 2018
In this location guide, I am going to show you some of the very best Photography Locations around Bassenthwaite Lake. All of these locations can be visited on one of my 1-2-1 or small group bespoke workshops. Why not check out the Workshops page for more details.
All of the images can be purchased in the Bassenthwaite Lake Gallery.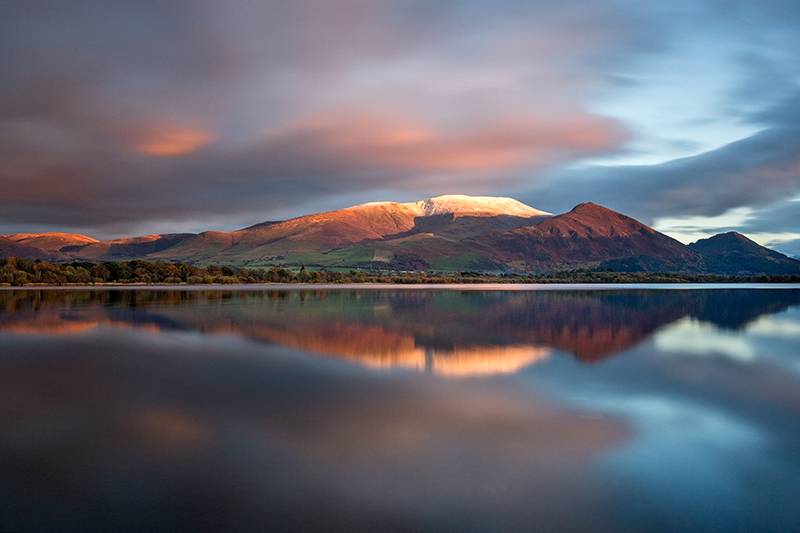 Image: Sunset over a snow capped Skiddaw Prints Available
DODD AND LONGSIDE EDGE - (OS grid reference NY 224-253)
HOW TO GET THERE
From Keswick, take the A66 in the direction of Cockermouth and Workington. After roughly 4 miles, the dual carriageway runs roughly north/south along the western edge of the lake giving breathtaking views. There are a number of laybys where you can park for free including one about half way along leading to a nature reserve and a shingle bay which is a popular spot for both photographers and bird watchers looking for osprey which nest on the lake's southern shore or in Dodd Wood to the east. Park here.
WHAT TO PHOTOGRAPH
There are superb views across the lake to the attractive slopes of Dodd and Longside Edge. If it is a still day these mountans, and the clouds if there are any, will be perfectly reflected in the lake. Early on an autumn morning you may well find the lake shrouded in mist and you can continue shooting as it gradually lifts.
If the lake is quite high, some of the trees will have their feet in the water and this makes a great foreground to your shot especially in winter when they have shedded their leaves. There are also some old boats tied up near the layby which you can use as a foreground to your shot.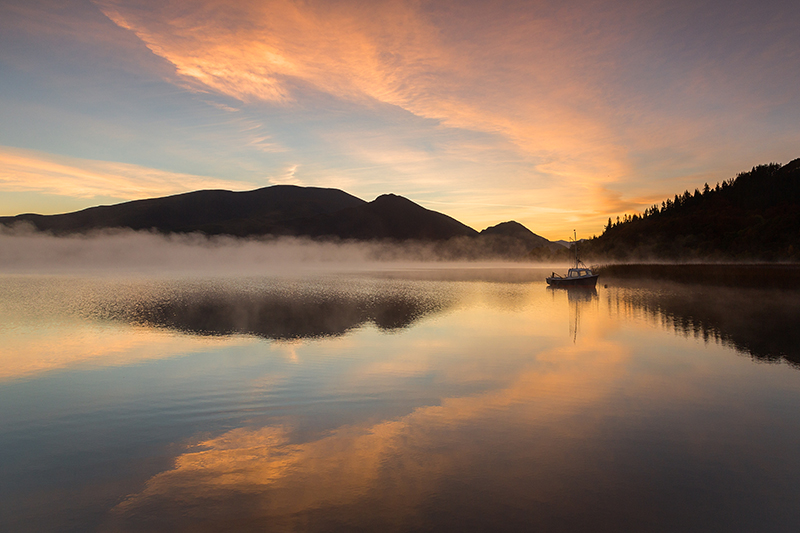 Image: Fifty shades of dawn at Bassenthwaite Lake Prints Available
BASSENTHWAITE SAILING CLUB AT DUBWATH - (OS grid reference NY 235-281)
HOW TO GET THERE
Travel approximately a further 3 miles along the A66 until you will see a sign on the right to Dubwath. Take that road which is the B5291. After a short distance, you will find the sailing club on the right-hand side. It is a private members club so you will need to park in the car park and ask permission to be on the grounds.
WHAT TO PHOTOGRAPH
There is a very attractive little jetty where they launch their sailing boats which gives a panoramic view down the lake. Their little rescue boat is normally moored a little way off shore alongside a beautiful reed bed which goes a spectacular colour in autumn and will give you the perfect foreground for your shot. By far the best time of year to visit is autumn when, if you are lucky and get up early enough, the mist will be hanging low on the lake or you may catch some spectacular dawn colour.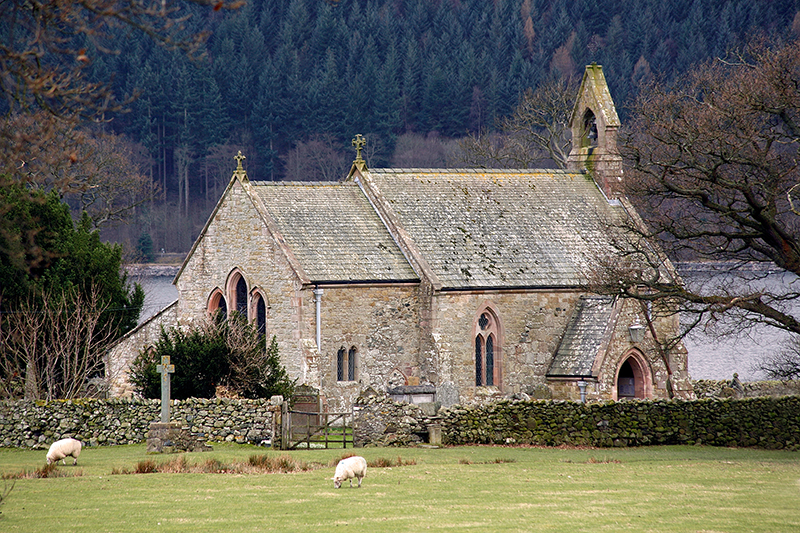 Image: St Begas's Church, Bassenthwaite
ST BEGA'S CHURCH - (OS grid reference NY 226-287)
HOW TO GET THERE
Turn right out of the sailing club and continue on the B5291 until you meet a T-junction just before Ouse Bridge. Go over the bridge and carry on until you meet the A591 at the Castle Inn where you turn right. Look out for a small lane on the right signposted to the church which soon leads you to a gate on the left where you can park your car. A short walk through 2 or 3 fields leads you down to the pretty church by the lake side.
WHAT TO PHOTOGRAPH
The church is in an idyllic situation. The present building dates from pre-Norman times and stands by a busy stream in the grounds of Mirehouse. The views are wide-reaching from here, with the ridges of Broom Fell and Lord's Seat across Bassenthwaite Lake and Ullock Pike and Carlside up to your right. In springtime there is an abundance of first snowdrops then daffodils surrounding the church.
The church can be quite tricky to photograph at sunset as the sun sets directly behind it and highlights the clouds. Using soft ND grad filters will stop your image being blown out.
You can either return the way you came on carry on the permitted footpath through the grounds of Mirehouse which are ablaze with colour in April and May. This will bring you back to the A591. Turn left here to return to your car. Take care as this is a busy road.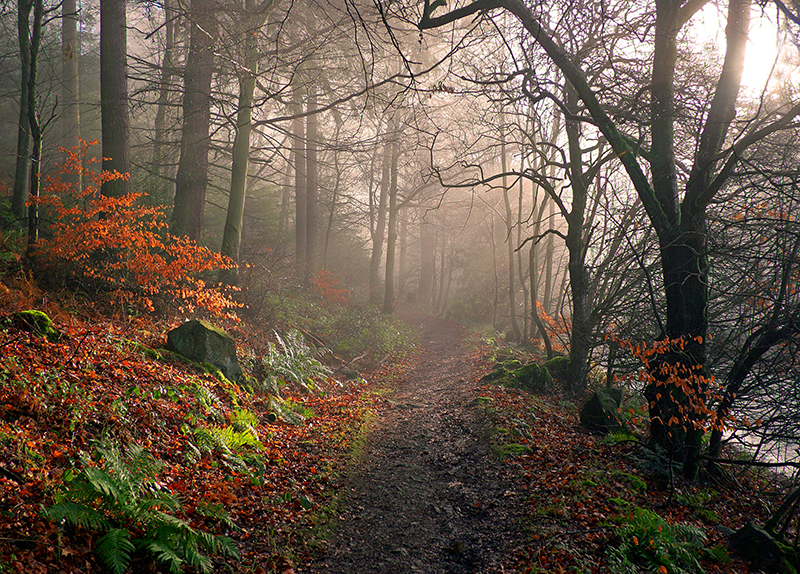 Image: Footpath through Dodd Wood Prints Available
DODD WOOD - (OS grid reference NY 235-281)
HOW TO GET THERE
Turn right out of the small lane onto the A591 and you will shortly reach Dodd Wood which has its own Pay and Display parking area alongside The Old Sawmill Tea Rooms. This car park gives access to the many footpaths up through the woods to the summit of Dodd and Skiddaw, the Osprey Project viewpoint and Mirehouse. There is a refund on the parking fee is you visit Mirehouse.
WHAT TO PHOTOGRAPH
The woods that run along the east side of the A591 are spectacular in autumn especially in October. There is a winding footpath running through them just by the road which gives a great lead-in to your shot. If you are lucky and pick a crisp autumn morning, you may catch the mist lifting with shafts of sunlight falling down between the trees. Best time for this would be mid-morning.
There are many footpaths up through the woods from the tearooms to the summit of Dodd from which there are great panoramic views across Bassenthwaite Lake and up to Derwentwater. It's a relatively short but sharp climb on easy paths. An attractive stream runs up through the woods but it's difficult to get down to and include in a shot and often clogged up with debris after heavy rain.
© Martin Lawrence Photography 2018