Photography locations around Ashness, Surprise View & Watendlath
Posted on 26th March, 2018
Here I am going to share with you what I consider to be some of the very best Photography locations on the road to Watendlath. All of these locations can be visited on one of my 1-2-1 or small group bespoke workshops. Why not check out the Workshops page for more details.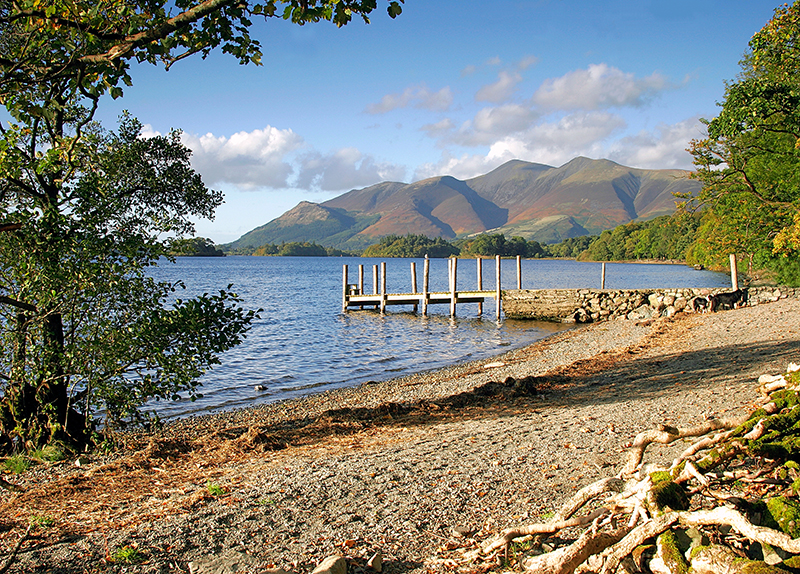 Image: Skiddaw from Ashness Gate
JETTY AT ASHNESS GATE - (OS grid reference NY 268-200)
HOW TO GET THERE
Leave Keswick on the B5289 Borrowdale road which runs alongside the eastern shore of Derwentwater. Ashness Gate is one of the landing stages for the Keswick Launch and is located just before the narrow road sign-posted to Watendlath, a left-turn off about three miles south of Keswick. There is a pull in at the start of the road just over the cattle grid for half a dozen cars.
WHAT TO SHOOT
This is a favourite spot of mine and there are many options for images that can be taken from here.
The classic shot is looking north down the lake towards Skiddaw with the landing stage in the foreground. There are some nice bleached tree roots that can be used as a good lead-in line. I have been very lucky to visit this spot on many a morning just after first light when the lake is often still and the reflections can be fabulous.
In the other direction, looking southwards down the lake; you get a view towards Castle Crag and the famous Jaws of Borrowdale, Wainwright's favourite square mile in the Lake District. You may be lucky enough to catch one of the launches coming in to set down and pick up passengers, which would be a useful addition to your portfolio if you are after stock photography.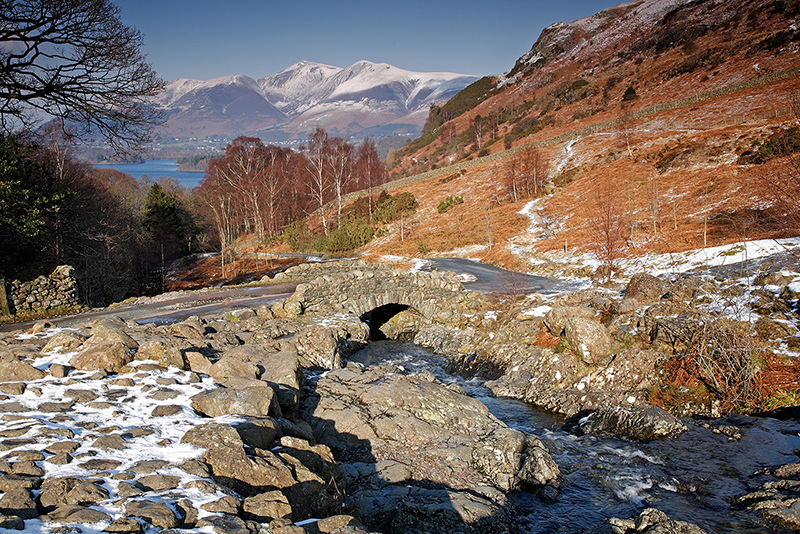 Image: Melting snow at Ashness Bridge Prints Available
ASHNESS BRIDGE - (OS grid reference NY 270-196)
HOW TO GET THERE
Get back into your car; continue up the Watendlath road for a few hundred yards and over the bridge. You will find an NT car park (free) about 100 yards past it on the right. The bridge is VERY narrow so drive over it with extreme care.
WHAT TO SHOOT
This is one of the most photographed viewpoints in the Lake District and it can be EXTREMELY busy. You need to avoid the crowds by going early or late; that way sunrise or sunset will make your photograph all the more dramatic. There is a great view looking down across Derwentwater to Keswick and Skiddaw. There are lots of rocks bordering the stream in front of the bridge that makes for an excellent lead into the shot and a chance to take some nice 'milky' slow water exposures. Again, colours are particularly good in the autumn but remember not to go too early or late or the fells behind you will prevent the sun from reaching the bridge and cast a dark shadow over your image.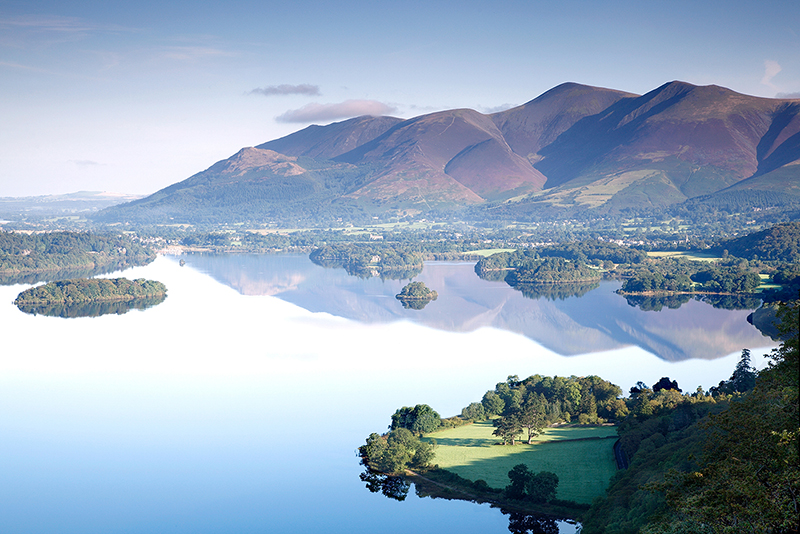 Image: Reflections of Skiddaw and Derwentwater from Suprise View Prints Available
SUPRISE VIEW - (OS grid reference NY 258 -189)
HOW TO GET THERE
This is about half a mile further along the road. Just around a sharp left-hand bend, there are two NT car parks (free) on the left directly opposite the viewpoint just past the entrance to Ashness Farm. You could leave the car and walk up from Ashness Bridge if you wanted to but note that the word that I used was 'up'. There is a huge unguarded drop from this viewpoint so if you have any small children with you please keep an eye on them.
WHAT TO SHOOT
From here, there is an even better vista than that from Ashness Bridge. You can see the whole of Derwentwater, Borrowdale to the South, and on a clear day Bassenthwaite Lake and Criffel to the North. There are rocks for foreground interest and trees that you can use to frame your shot. Patience will be rewarded by one of the ferries coming in to pick up passengers at Lodore leaving patterns in the water in its wake. This is also one of the few places where you are high enough to get a decent sunset before it goes down behind Catbells and Maiden Moor.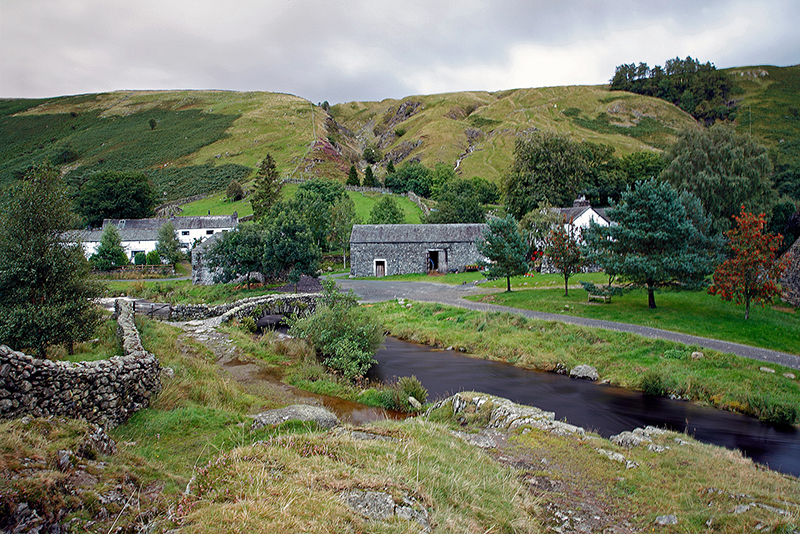 Image: Bridge at Watendlath
WATENDLATH - (OS grid reference NY 276 -163)
HOW TO GET THERE
Just continue past Surprise View until the road ends at the small hamlet of Watendlath. This is a good road but quite narrow. There is an NT car park (fee payable).
WHAT TO SHOOT
Watendlath is a small hamlet consisting of a scattering of old farmhouses owned by the National Trust to preserve the character of the area. The classic photograph here is of the highly picturesque stone packhorse bridge which crosses Watendlath Beck. You can take the shot either towards the houses or in the other direction towards Watendlath Tarn which lies beside the hamlet. This is where fishermen hire out boats to fly fish on the tarn and, if you are lucky to catch them, this can make a nice shot with the fells in the background. There are water-lilies on the tarn in summer. With a little effort, you can climb the footpath that leads over to Rosthwaite for a short distance from where you can get a bird's-eye view of both the hamlet and the tarn.
© Martin Lawrence Photography 2018