Locations for a days photography in the Lake District
Posted on 25th August, 2020
INTRODUCTION
I have written several articles about individual photography locations to visit throughout the Lake District, not only for my own website, but for other websites as well. They have also appeared in many photography publications of which I have been really grateful. I have written photography guides about Glencoe, Rannoch Moor and the Isle of Skye, so I thought it was time I wrote an article about using the best use of your time on a full days shoot in the beautiful Lake District. I have written and spoken about not being a 'headless chicken' who rushes around trying to capture the light. This is good advice, but this article is for the many people that have contacted me saying they have limited time in the Lakes and want to make the best use of their time no matter how busy or tiring the one-day schedule may be.
This will be a full days shoot, from sunrise to sunset so be prepared to be tired at the end of the day. Some driving will be required so a car is essential and some walking will also be necessary. But it will include some lovely locations that will reward you with great images that you will be able to include in your portfolio.
This guide is for any photographer no matter what standard you are up to on your photography journey. In fact, you don't really need to know anything about photography, you could just follow the schedule, see the lakes and have a great day out.
GEAR REQUIRED
As you will be on the move quite a lot you will want to keep your gear to a minimum so pack the essentials only: -
camera
a couple of lenses which will give you a focal length of between 16 – 100 mm
some Graduated Neutral Density Filters
a Big Stopper if you have one
a light weight tripod
several batteries and enough SD/Compact Flash cards. You'll be surprised how many images you can take in one day
Wear sturdy walking boots and dress according to Lake District weather which is likely to be wet. If I'm going on a full days shoot then I always bring a spare change of clothes and some wellies
Bring enough food or snacks that will last you the full day and bring plenty of water. It's really important to keep hydrated so don't skimp on this essential.
SUNSET AND SUNRISE TIMES
Do some research before you plan your day. I have found that this is a good website that I can use to find out sunrise and sunset times Sunrise and Sunset Times
Plan to be out about an hour either side of these times. The two best times of the day are likely to be an hour either side of sunrise and an hour either side of sunset, so be mentally prepared for a long day. These times are the so called 'Golden Hours' and, trust me, this is when you are likely to get your best shots. Make best use of these two periods and stay at the location you are at. It's best to try and avoid driving and wasting these best times of day. Don't be put off if there is some rain about, you don't want wall to wall blue skies. I accept you don't want torrential rain with thunder and lightning everywhere either, just use your common sense and remember you don't get rainbows without showers!
THE PHOTOGRAPHY STARTS HERE
I have listed here the locations that I think will make up a great days photography. By all means go to other locations close by if you want to add to your day. We are going to start at: -
Castlerigg Stone Circle (OS grid reference NY 291-236)
How to get there
Leave Keswick by the A66 in the direction of Penrith. The circle is accessed by following the brown monument signs on minor roads. Car parking is in a lay-by opposite the gate into the circle.
The Stone Circle
This is the perfect location for a sunrise no matter what time of year, hence the reason why this is your first location of the day. Take your wide-angle lens to this location as you want to get close to the stones. By all means take a few images of the complete circle which everyone has to do, but you want the stones filling the frame as well so get close in. Because it's a circle you can position yourself perfectly according to the light and any sunset colour that's appearing.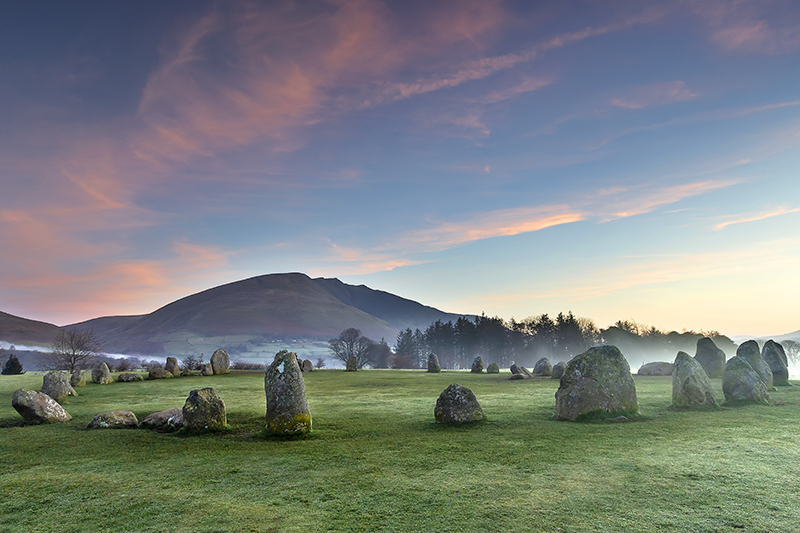 Image 1 : Mist surrounds The Castlerigg Stone Circle
I think the best shot is from the southern side shooting towards either Blencathra or Skiddaw which most mornings will include the sunset colour and possibly low-lying mist. There are numerous images to be taken at this location.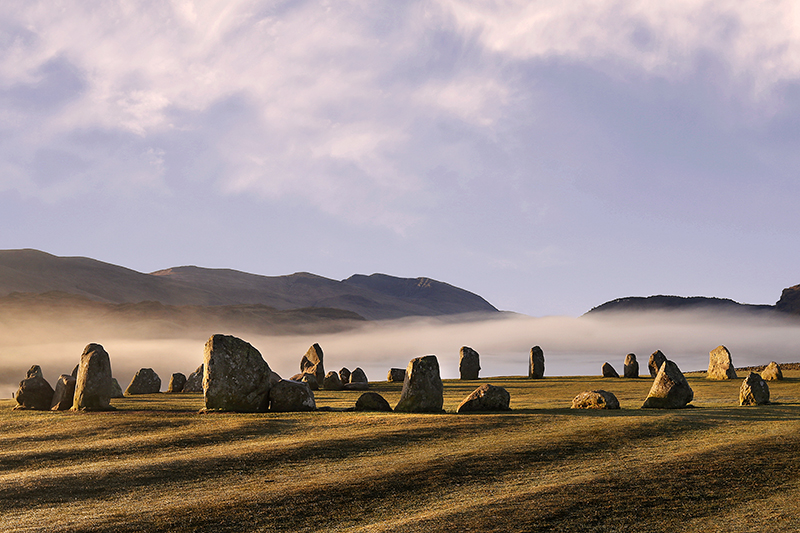 Image 2 : Mist above the circle looking towards Helvellyn
Get inside the circle of stones and shoot south towards Helvellyn or east towards Clough Head or even west towards the Derwentwater Fells. You can spend a good couple of hours here either side of sunrise.
Moving on to Tewet Tarn
How to get there
As you are close to this beautiful tarn, I suggest you pop along and spend a good hour of really great photography.
Drive east from the stone circle past the Keswick Mountain Club until you hit a junction. Turn right and proceed to the next junction. Turn right again signposted to St John's in the Vale. Drive for about 200 yards until you see a sign post on the right for Tewet Tarn. Walk up the hill for 10 minutes until you come to the tarn.
Tewet Tarn (OS grid reference NY 304-235)
This is a beautiful little tarn which can be perfect for reflections especially early in the morning. You are again shooting towards Blencathra and Skiddaw which are hopefully reflected in the tarn. There is also a beautiful tree here which adds to your composition possibilities. This is also a perfect location for taking several images of both of these fells and then stitching them together with your usual software to create a panorama. See my article here on Stitching Images to Create a Panorama.

Image 3 : Skiddaw, Lonscale Fell and Blencathra from Tewet Tarn
The perfect location to creat your panorama. Skiddaw and Blencathra are the two main mountains in this northern location and Tewet Tarn is the perfect location to take them from. Walk around the tarn as there are numerous other foreground possibilities including colourful reeds, gates and fences.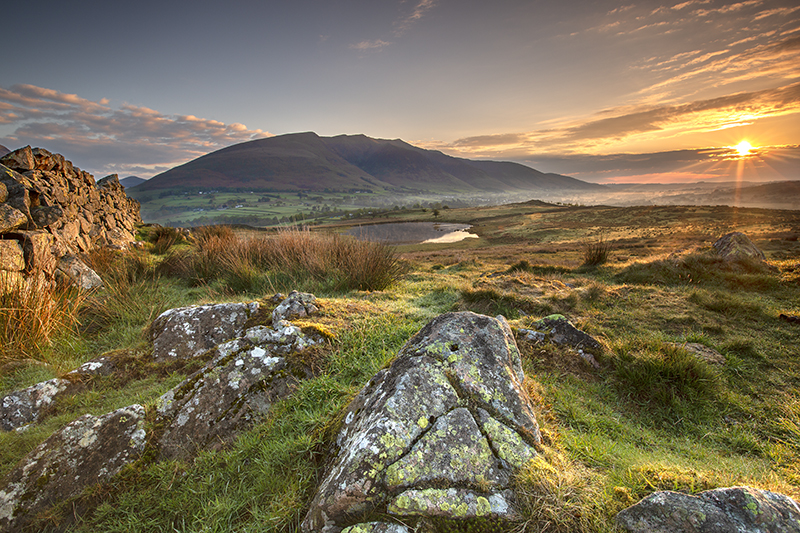 Image 4 : Day Break over Tewet Tarn and Blencathra
If you look towards the Derwentwater fells you can see some higher ground which gives you an elevated position overlooking the tarn. This can be a great location as there is plenty of foreground interest including a great stone wall offering lead-in lines by the bucket load.
Moving on to Derwentwater
How to get there
Re-trace your journey back to the Castlerigg Stone Circle, continue downhill and make your way into Keswick. There is plenty of car parking in the main car park by The Theater by the Lake.
Derwentwater (OS grid reference NY 264 229)
Derwentwater is a great location especially in the morning when the sun has not yet reached Castle Crag on its daily journey. I don't want to list the numerous shooting positions, it will be fun for you to spot some for yourself, but have listed a few that are well worth you looking at.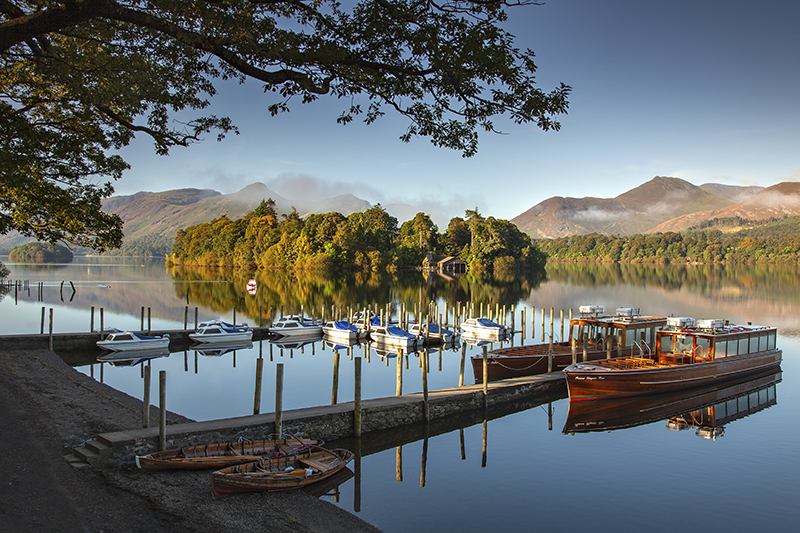 Image 5 : Keswick Boat Landings on a summers day
Keswick Boat Landings is always a must for your portfolio especially when the lake is still and there are reflections of the boats. Try to structure your image with either Catbells or Causey Pike in your shot and try to avoid the many geese that are there unless your shutter speed is very fast. Blurred geese is never a good look.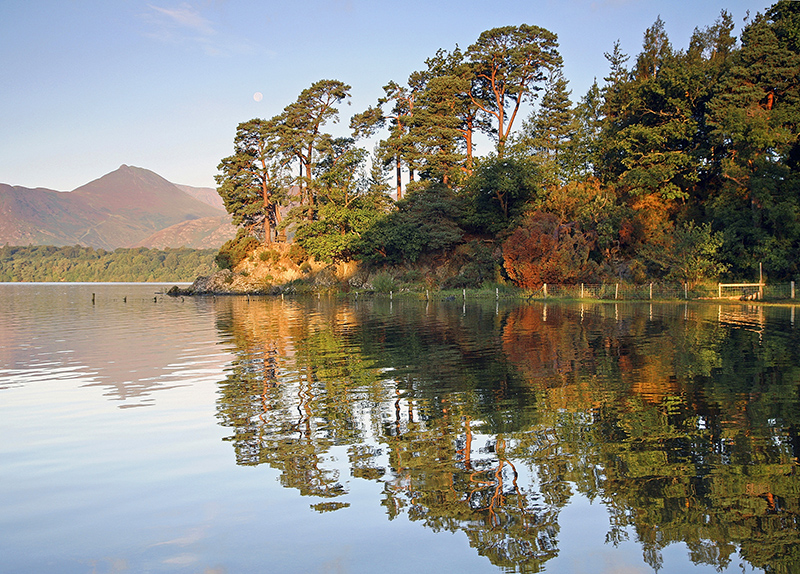 Image 6 : Friars Crag from Derwentwater Bay
Continue to walk clockwise round the lake for a couple of hundred yards until you come to a split in the path. You can either continue and take the shot of the beautifully positioned bench with the Borrowdale Valley in the distance or keep left and take Friars Crag from the bay with Catbells and Causey Pike again as your backdrop. The next main stop will be Buttermere but I want to just add a couple of locations along the Borrowdale road.
Moving on to the Borrowdale Road
How to get there
Return to the car park and, leaving your car there, walk right to the T junction then turn right to the small roundabout and then right again along the Borrowdale Road. The following are two of the best photographic locations along the road especially before noon. The sun has now risen giving you some great light but not yet over the western fells.
Castlehead (OS grid reference NY 264-228)

Image 7 : Derwentwater panorama from Castlehead
Carefully walk along the road until you come to a small stone stile on the left. It's only a short walk up through the woods to this very popular viewing point. Castlehead gives you a great opportunity to take a panoramic image of Castle Crag, Catbells, Causey Pike and the Newlands Valley. Well worth taking 45 minutes out of your day. The second is :-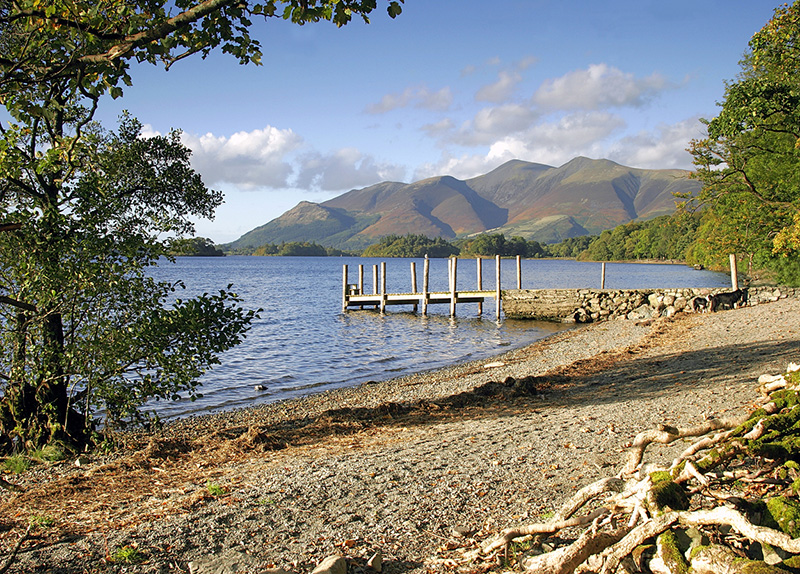 Ashness Gate Jetty (OS grid reference NY 268-200)
Image 8 : Ashness Gate Jetty and Skiddaw
Continue by car down the Borrowdale Road until you come to the small road on the left to Watendlath. The jetty is opposite the junction down on the lake shore. This is a nice jetty and has plenty of photographic options shooting towards Skiddaw or Catbells.
Moving on to Buttermere
How to get there
The best way to Buttermere from Ashness Gate is to carry along the Borrowdale road through Rosthwaite and Seatoller, over Honister Pass and down into Buttermere.
Buttermere (OS grid reference NY 193-149)
There are numerous photo opportunities around Buttermere. This could be a location in itself for the day, but like I said before this is an article to get the best out of your day when your time in the Lake District is limited. For me, down the eastern side of Buttermere, there are 3 main shooting locations. The iconic White Hut on the southern shore of the lake, the classic view of Haystacks and Fleetwith Pike down the lake and perhaps finally the now famous Lone Tree on the northern bank of the Lake.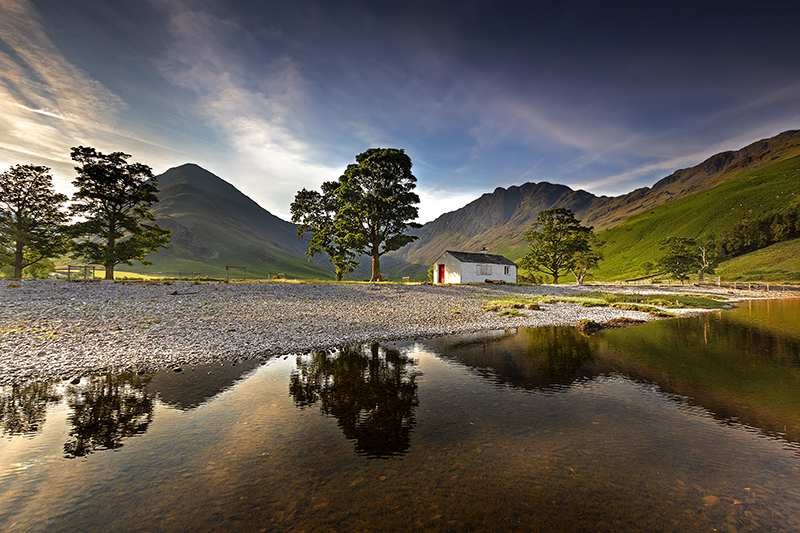 Image 9 : Fleetwith Pike and Haystacks Buttermere
When you reached Buttermere at Gatesgarth continue along the B5289 for a little while until you can get a good view of the Hut. There are some pull-ins along the road but please be careful and considerate to farmers and other motorists on where you park. Try taking a good zoom lens with you so you can get a close up of the White Hut as well as Haystacks as your background interest.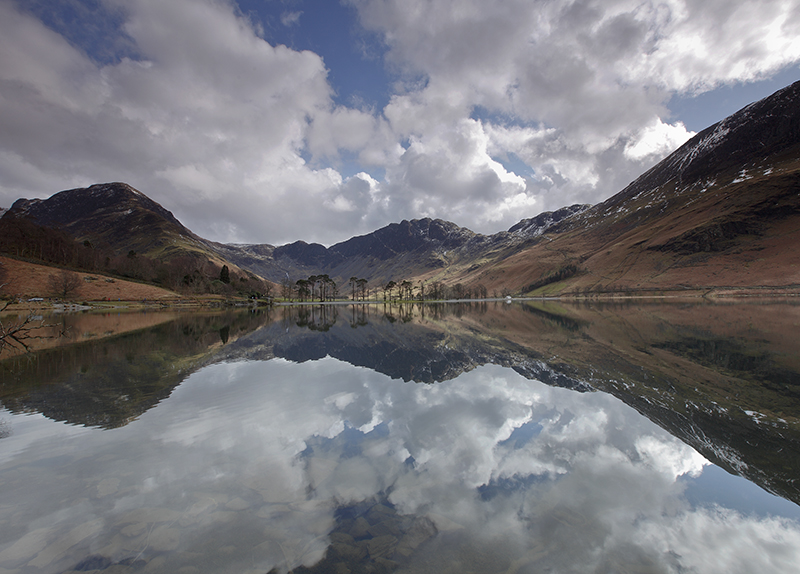 Image 10 : Peace and Tranquility
Continue to drive along the road until you come to a bay with a large dead tree beyond. There is some parking here for a few cars but don't block the gateway. Walk down to the bay where you have tremendous views down the lake towards Fleetwith Pike and Haystacks. This is a lovely location especially when the water is calm in the bay and the mountains reflected perfectly.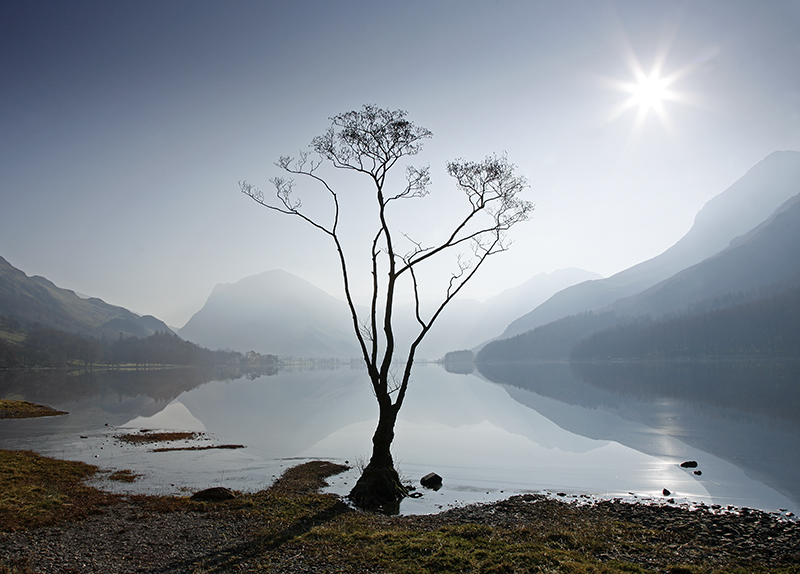 Image 11 : Morning Mist on Buttermere
Continue driving along the road until you get to Buttermere Village. There is plenty of parking here. Walk towards the lake and turn left on the shore path to find the Loan Tree about a hundred yards further along. Please note this path is closed in the spring for a few months because of nesting birds so time your visit accordingly. The classic shot is on the beautiful and now iconic Lone tree with Haystacks and Fleetwith Pike in the background. This has been your fleeting Buttermere experience but by all means look around for other interesting images to take.
Moving to your next location
This is where you need to check the clock. I want you to finally end up at Wastwater where it's perfect to catch the setting sun shining down the lake. The amount of time you have left will have depended on how long you have had at the previous locations. It's quite a drive to Wastwater, about an hour, so give yourself plenty of time to get there and set up. If you are shooting in autumn then I would suggest you pay a call at Crummock Water which is the lake next to Buttermere. It's not much of a detour and photographing the larch trees across Crummock Water in the late afternoon sun can be quite special.
Crummock Water -- if you have time
How to get there
Continue on the B5289 away from Buttermere and when you come to a T junction turn left along Fangs Brow to Crummock Water. Park the car in the National Trust Car park on the left just before you get to the village.
Crummock Water (OS grid reference NY 1586-1885)
This lake is often forgotten for it's more popular neighbour Buttermere but it really can be quite beautiful at all times of the year.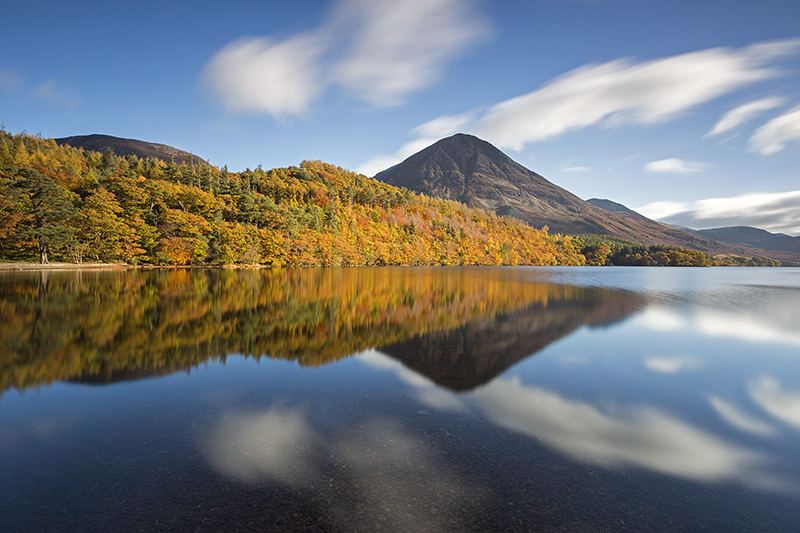 Image 12 : Autumn colour surrounds Grasmoor at Crummock Water
Leave the car park from the far side away from the road. Go through the large gate and walk along the path for a couple of hundred yards until you meet the lake. There is a nice shot to be taken straight down the lake towards Rannerdale on the left and Melbreak on the right. The shot I like to take is one from the right-hand side of the lake looking across to the larch trees on the left. If you have timed your trip right these trees can be bright orange especially in the autumn with the late afternoon sun shining on them.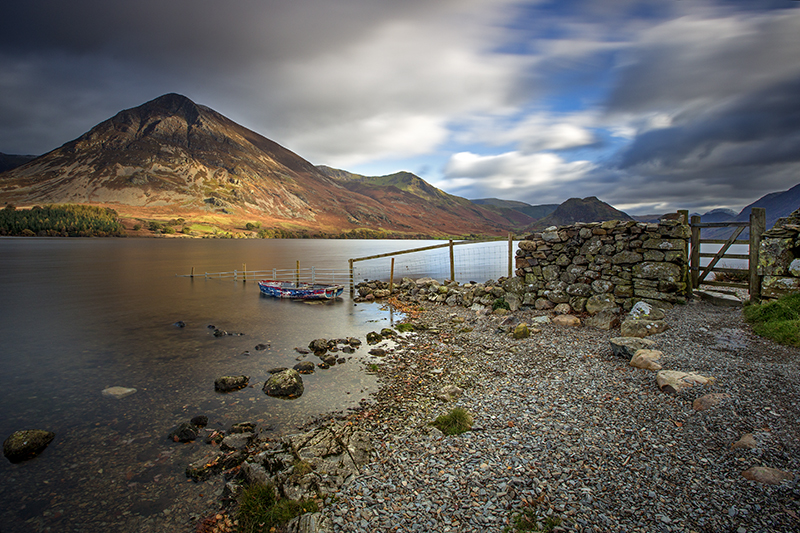 Image 13 : Last light over Crummock Water
If you wish to carry on this path for about another half mile there is a popular image of the stone wall with a gate and Rannerdale Knotts in the distance. If you are lucky the old boat may still be there giving you some different foreground interest. Retrace your steps back to the carpark.
Wastwater for sunset
How to get there
Continue on this road to Mockerkin and then take the A5086 to Frizington and then Cleator until you come to the A595. Turn left here and drive for some way until you come to a signpost on the left to Gosforth. Go through Gosforth and keep taking the road that's signposted to the Lake. When you reach the lake there are numerous parking areas off the road.
Wastwater (OS grid reference NY 1631-0609)
This is one of my favourite lakes, especially towards sunset. The sun will be setting to your right and the shot to take is straight down the lake towards Yewbarrow, Scafell and Great Gable. There are really hundreds of different shots you can take, all with different foregrounds, so set yourself up ready for the valley to light up with the setting sun.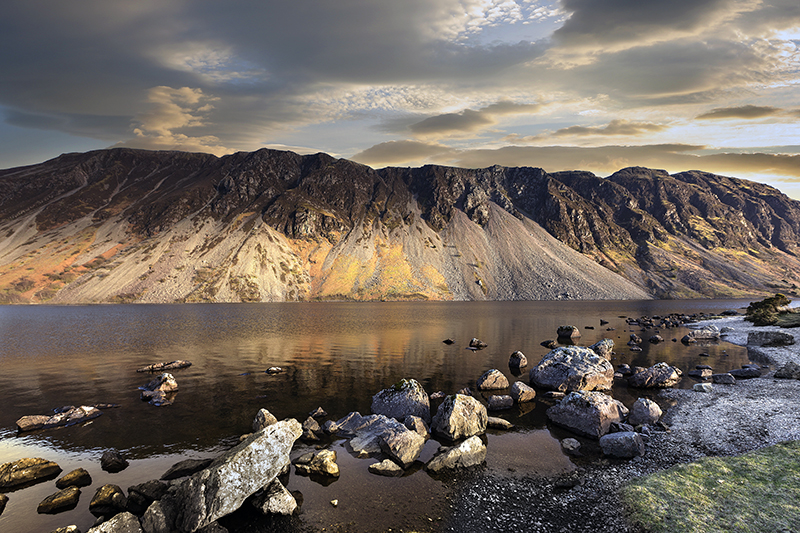 Image 14 : Sunset over The Wastwater Screes
The two best shots for me are the one with The Wastwater Screes in and the one straight down the lake with Yewbarrow on the left, Great Gable centre and the Scafell range on the right.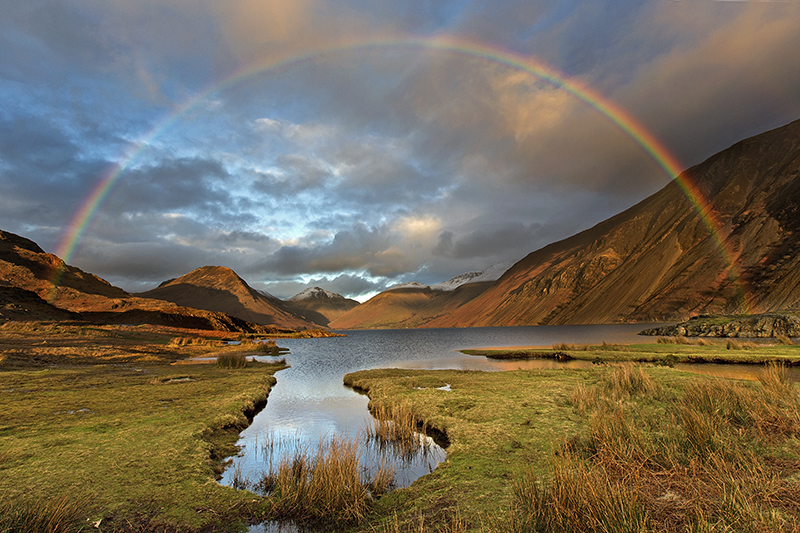 Image 15 : The Wasdale and Wastwater Rainbow
Look for small streams feeding the lake or rocky outcrops or small islands as these give you great lead-in lines for your images. The beauty of this location is that you can stay until after dark as your car is only a few yards away from where you have been shooting, so stay here for as long as your SD cards and batteries last. I was lucky this particular evening when this beautiful full rainbow appeared. It's a sight I will never forget.
Conclusion
This really has been a full day's photography and a whistle stop tour of the Lakes. You could have had lengthier stays at each of these locations but I doubt you would have been able to get them all in. Make this itinerary work for you, break it up into several days or make a full day of it, it's up to you. As I previously mentioned, this full day location guide in the Lake District is for those having only a limited time here but still wanting to make the most of their day. You will certainly be tired at the end of the day, but I know you will not only have a better understanding of the lay out of the Lake District but will have come away with many images you will be proud of.
May the weather gods be with you and look out for my next Full Day of Photography article in the Lake District.