Lake District Photography at its best
Posted on 6th January, 2023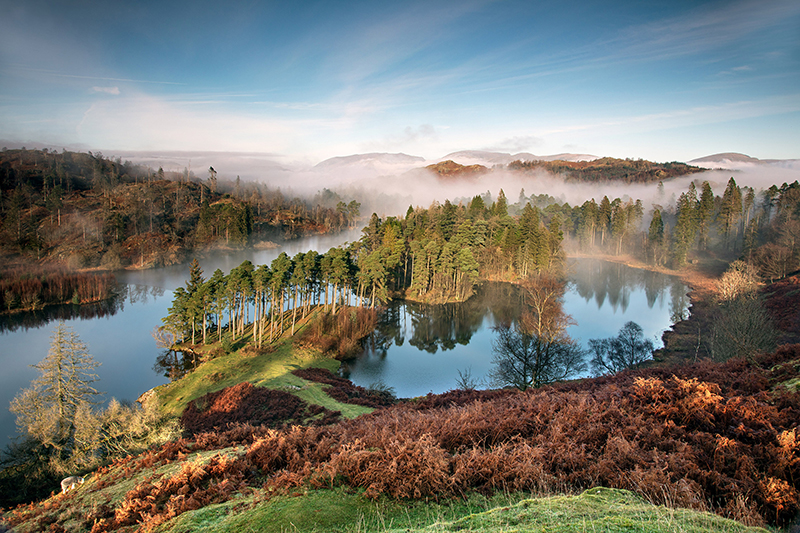 When you've planned a day's photography and you draw back the curtains and all you can see is fog, low cloud and no light what so ever - what do you do ?
There is a big temptation to turn over in your comfy warm bed and go back to sleep - right !! Wrong I'm afraid. This is when you can get some of the best photographs you have ever taken. You obviously have to use some common sense because if the forecast is for heavy rain all day with strong winds and no light what so ever then perhaps the turn over option might be best, but if there is a chance that things might change you will want to be at your first location when it does. There is no point in being at home when the clouds and mist start to lift, as the best images will have long gone by the time you arrive.
This blog post is one such day when I could have easily just turned over and missed one of the best days photography I have ever had.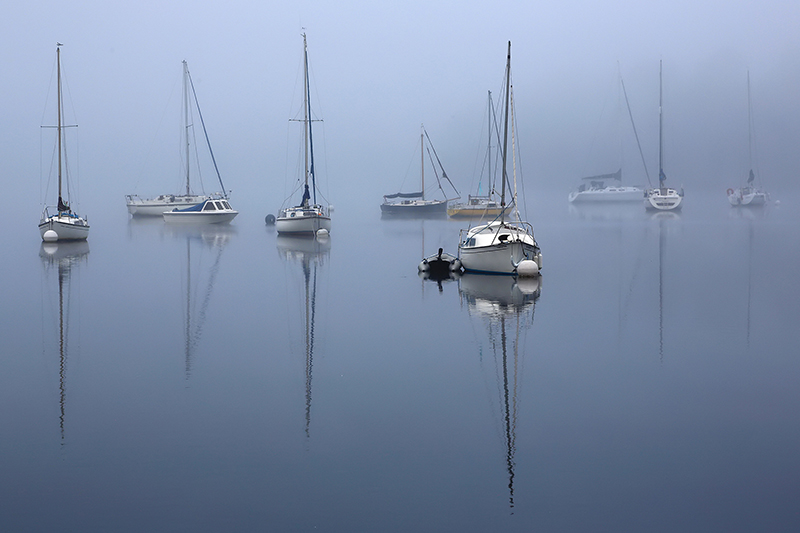 Living in Preston and working in the Lake District, I always travel up on the A591 from Windermere to Derwentwater stopping off at the locations that look promising. Don't have it in your mind that you must take some images of Derwentwater when you're not sure what the conditions would be like there passing Windermere when it's at it's best.
Driving through Waterhead on the eastern shore of Windermere the moored yachts have always fascinated me. It's a sheltered bay so great for reflections, easy parking, which is always a plus and has great subject matter. On arrival, I knew I was going to be in for a good day, there was heavy mist and fog with virtually no wind, which is always a bonus when trying to capture great reflections. I love this image of the yacht masts making a perfect vertical line all in a row. There is a temptation to do some slow exposures which can be quite effective, but if the boats are moving slightly then the blurred effect of the subject matter can be counter productive. Long exposures on clouds and water are beautiful but you really do want that focal point nice and crisp.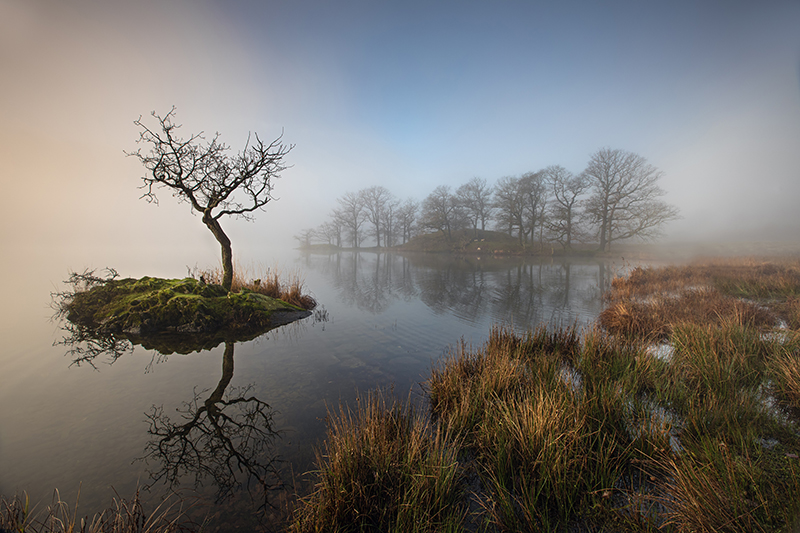 Moving north along the A591 from Windermere is Rydal Water. This area is becoming very popular with photographers due to the now famous Rydal Water Tree, the several islands you can see from the shoreline and when the sun rises in winter the colours can be stunning. This tree is superb subject matter whether you photograph it in the winter or summer and is almost, I say almost as popular as the well known Buttermere Loan Tree which I was lucky enough to capture at the start of it's popularity. You can see this from the image in the Buttermere Gallery due to the number of branches it had in those days, so why not check it out to see the tree in all it's glory.
You can often get the fog and mist lying over Rydal Water, so I was pretty sure looking at the day's conditions it would be quite spectacular. I wasn't disappointed. The mist danced along the lake often covering the tree and then lifting again allowing the early morning light to add colour to the reeds close by the shore. I tried to capture the tree as a silhouette against the fog but still keeping the bank of trees and the reeds in the shot. This was Lake District Photography at its best, and I must admit, I went through a full card taking images at many different angles and perspectives hoping to come back with an image to be proud of.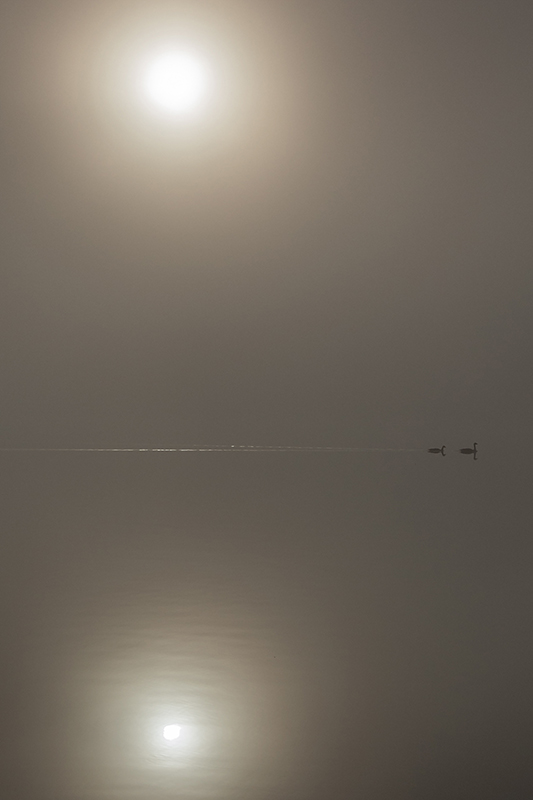 The light makes all the difference in landscape photography. Shooting in the 'golden hour' is such a great rule to remember. An hour either side of sunrise and sunset is when you can get those images that you remember and are most proud of. It's not always the case, but through my long photography journey I can honestly say, get yourself set up for these periods of the day and invariably you won't be disappointed.
This is one such image that I am extremely proud of. Again, it's in the 'golden hour' shortly after sunrise but the fog was down making me think of leaving and moving on to a different location. I'm so glad I didn't. Earlier in the morning I'd seen these two birds crossing the lake several times but were not in a place that I thought would make for a great image. My patience paid off. They started moving towards the sun which was nicely difussed by the fog so it wasn't burning out the image. Structuring the image quickly was now crucial, what do I place where and how much do I capture. So, on to manual mode to adjust the shutter speed and keeping to my beloved F11. I wanted three elements in my image, the difussed sun and reflection, the two birds and what I wanted most of all was the sun lighting up the wake that the birds had made. I took several images adjusting the shutter speed each time and the ISO when needed.
I was really nervous on the way home about this image as I really did want to get this image right. I think it's completely different to the normal landscape images I take but I must admit this was one of my favourites from a really special day in the Lake District.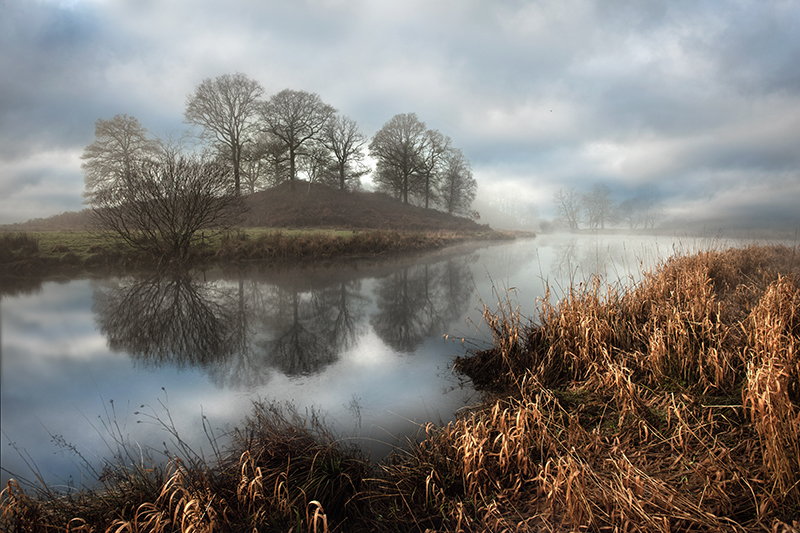 After a few hours shooting Rydal Water I was expecting the fog to lift and to go back to normal winter conditions. How wrong I was, as this was turning out to be a really special day. But where to go next was the question and to try and take advantage of these unusual conditions.
I've always liked the River Brathay which again has become very popular with photographers. So off I went, hoping that the foggy conditions and light would keep for just a few more hours. When I got there, to my surprise there where 10 other photographers taking advantage of these fabulous conditions. I found a spot I liked, set up my gear and started taking images. All you could hear in the stillness of the day was cameras clicking all along the line. It was quite surreal really, as people were just looking at each other and then looking back of their cameras simply amazed at how beautiful our country can be. It was a real pleasure to be amongst like minded people where we all knew we were in for a great session with our cameras.
The lifting fog was now making pockets of low cloud, trees were reflecting in the sill River Brathay and the golden light hitting the reeds in front of you were all things that were making for perfect conditions. It was a complete pleasure to be there and to witness such a special day unfold right in front of you. I normally go to this location to shoot the Langdales as a great backdrop to your image but on this occasion they could not be seen, but you know, it really different matter as I had captured something a bit different which is what Landscape Photography is all about.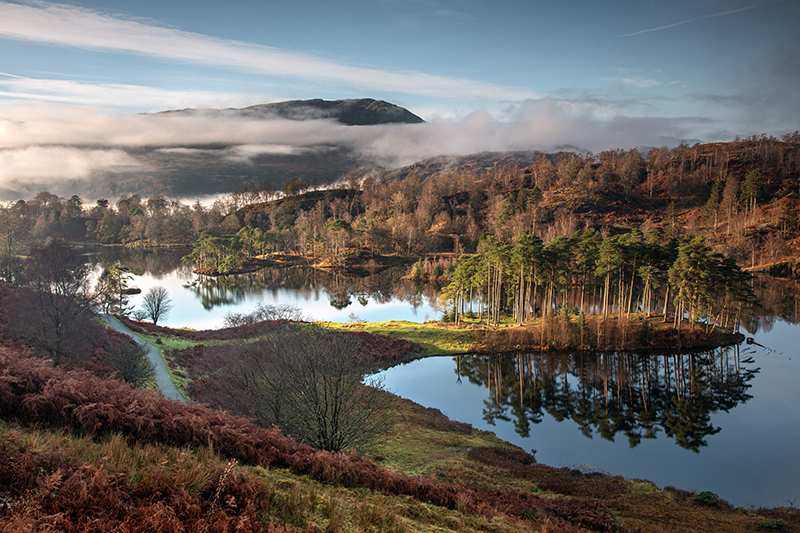 By now the day was coming to an end. The light was starting to fade but there was still some 'end of day light' to be captured. The fog was still down, so I thought long and hard where the last location should be. When in these situations you have to think about whats in front of you and the conditions you are working with. The fog was low lying, so it seemed obvious that I needed to gain some height to get above the fog. It had to be close to the River Brathay location, it had to be worth photographing and it had to be easily accessible. Only one other location came to mind and that was Tarn Hows. Perfect for subject matter, perfect for reflections, had the height I wanted and is a popular choice by not only photographers but fell walkers alike.
Got there in good time, plenty of places left in the car park and a quick look over to Wetherlam and the Langdales got my heart racing. I needed to gain some height though, so started to walk to my favourite location close to the disabled car park. The crag is a great elevated position where you can capture Wetherlam and the Langdale Pikes to the north. It also allows you to capture any reflections should you be lucky enough with the weather. I do like capturing The Langdales but on this occasion the low mist and fog were swirling around Wetherlam making it very tempting to turn the camera westward to capture this much loved fell. The position of this elevated crag was perfect to capture all the elements I wanted but with the sun quickly setting I decided with some sadness to call it a day.
The day started when I had to make a decision as to whether I should turn over and go back to bed or to chance the fog would lift and I could make something out of the day. So pleased I made the right decision as I must admit this was one of those special days where it was -- Lake District Photography at its best.