Great Day Spent at Leighton Moss Nature Reserve
Posted on 10th November, 2022
Just spent a few hours at Leighton Moss Nature Reserve near Silverdale in Lancashire. The RSPB centre is very popular with some nice bird species habiting there at all times of the year. Leighton Moss is well organised with all trail routes sign posted and lots of hides to view the birds over many acres of reed beds and wetlands. It even has access to marshes and mudflats overlooking Morecambe Bay to view waders and sea birds. A great way to spend the day. Here are just a few images I was able to take during a day in November.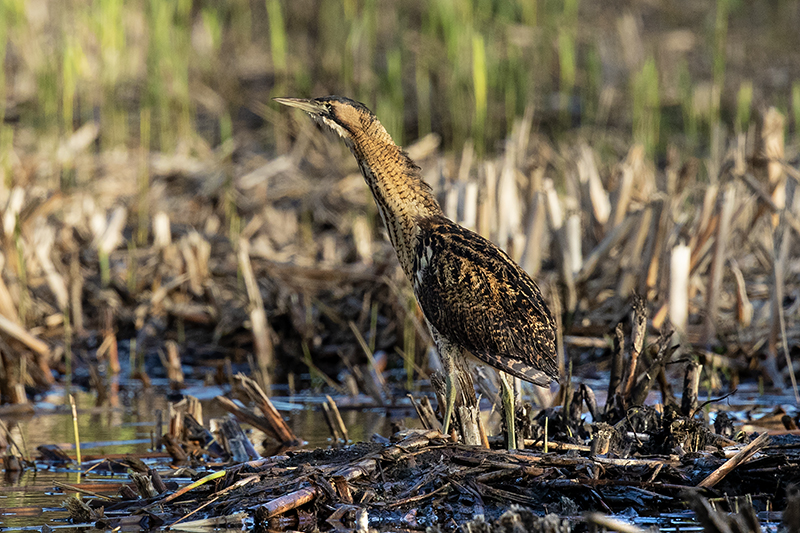 Taking a photograph of a Bittern has been on my bucket list for many years now. I have often heard their characteristic 'Boom' call and seen shadows when they've rushed back into the reedbed but never seen one out in the open, never mind photograph one. This was a real red letter day for me as this bird came out from the reedbed for a good couple of minutes looking for food in the winter sunshine. The Bittern likes to stand tall with it's head in a very upright position and tends to run with it's neck and head always pointing forward. It feeds on frogs, toads, small insects and fish.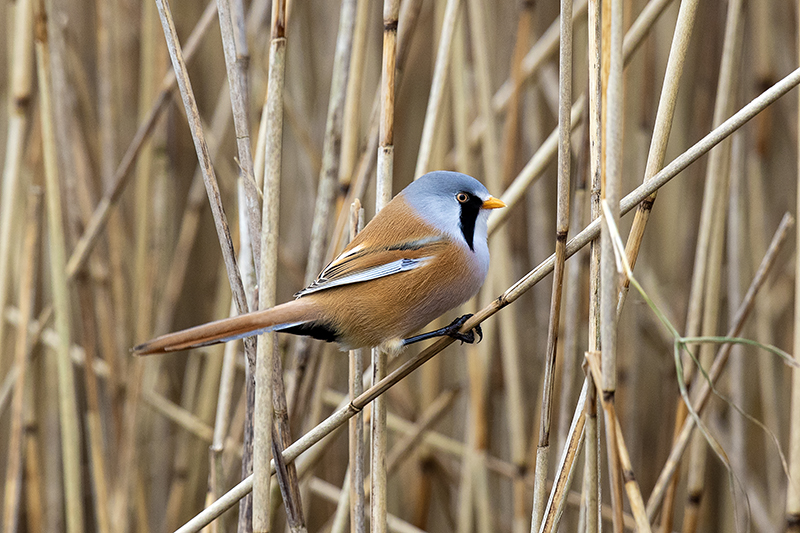 Leighton Moss is well famous for viewing the beautiful Bearded Tit. The colours of both male and female (male seen here) are quite amazing. They comically look like they have a moustache with a pale blue head and a light brown body. Had to wait several hours to capture this image as he clung onto one of the reeds in the windy weather. Leighton Moss always put out 'grit trays' for them which they use from October onwards to help with their digestive system. If you are lucky and come early enough you may catch a sighting near the trays of this much loved bird.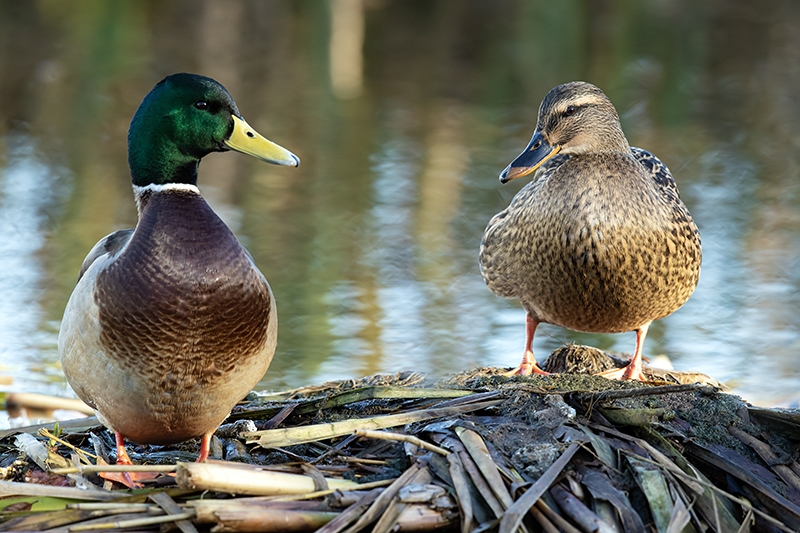 I know these Mallards are very common and everybody has a photograph of them but I just loved the way that these two birds were looking at each other. It just looked like she was about to tell him off for being out all night or that he'd lost the family somewhere out on the lake. Both male and females are brightly coloured but the male has this distinctive green head and a yellow beak. Don't always take common birds for granted as even these two looked fabulous as the sun was setting.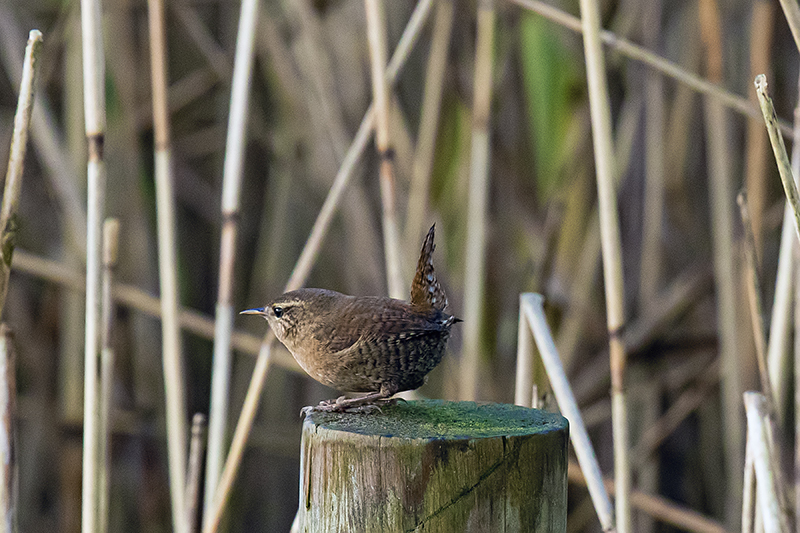 The Wren is such a shy bird and quite hard to photograph. You often can hear them before you see them so keep listening out for that distinctive 'chirp'. It's one of the smallest birds in the UK and always points it's large tail up in the air and bobs up and down when agitated which seemed quite often today !! This guy didn't stay for long and I never saw him again all day so was really pleased to catch this moment in time.
The Cormorant is a large water bird with a distinctive long reptilian type neck and large yellow beak. It can sometimes get mistaken for the common shag as they look very similar. Leighton Moss have quite a few of these beautiful birds which like to stand stationary and put their wings out horizontally to dry them off in the sunshine. They are superb at fishing, to the annoyance of many a fisherman but looking at their green iridescent plumage then all is forgiven.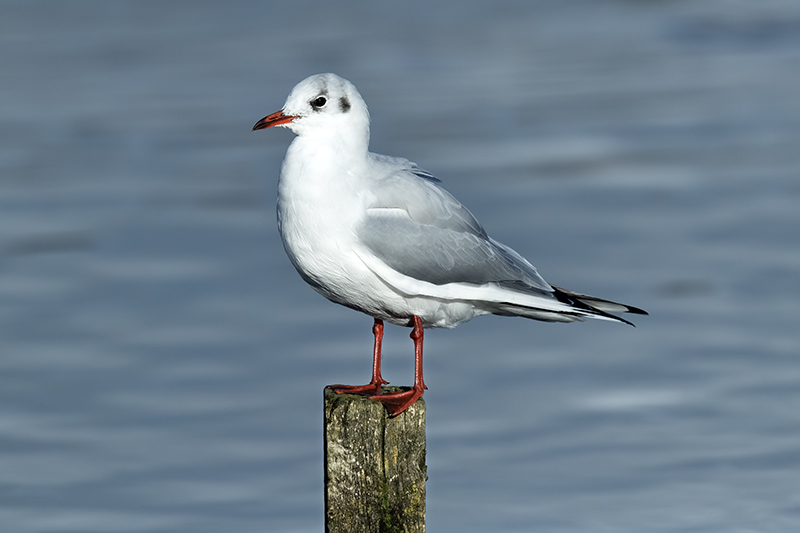 Not sure why I took this photograph only that the colour of this Black Headed Gull through the camera was quite astonishing. The legs and beak are a beautiful red colour and the subtle white, blue and grey plumage really stood out for me. They lose their 'black head' plumage in the winter but some of the acrobatics these birds can do is quite amazing to watch.
This is just a sample of the birds I was able to photograph in a few hours on a winters day at Leighton Moss. There are lots of different birds here like Marsh Harrier, Long-tailed duck and many other species of water fowl. It's just a matter of patience and yes I know, being in the right place at the right time, but there are always lots of 'birders' there and they will be more than happy to share their knowledge with you to make your experince at Leighton Moss as good as the one I recently had, so go check it out for yourself.