Isle of Arran Trip Report
Posted on 16th March, 2018
I recently managed to get away for a few days photography on the beautiful Isle of Arran. This is my Isle of Arran Trip Report.
Day 1
I have been waiting for months for a good spell of weather to make a trip over to the Isle of Arran but it's just never happened.
We were sitting in our lodge up at Bassenthwaite when the weather forecast came on and it looked like that moment had finally arrived. My wife Sheila quickly packed a bag whilst I Googled the ferry times. If we set off immediately, we could drive the 140 miles and get the last ferry from Ardrossan with 20 minutes to spare - so we went for it. We arrived just in time and, luckily, the ferry wasn't full. Sheila managed to get us booked into one of the two B&Bs that was open for business at this time of year as we sailed, so all was well.
If you've never been over to Arran, it's a small island only 22 miles in length famous for its beautiful beaches and stunning inland mountain scenery. The locals call it 'Scotland in Miniature'. We stayed in a little town just a short drive from the ferry terminal called Lamlash, which has a few shops and lots of places to eat. It was the perfect base.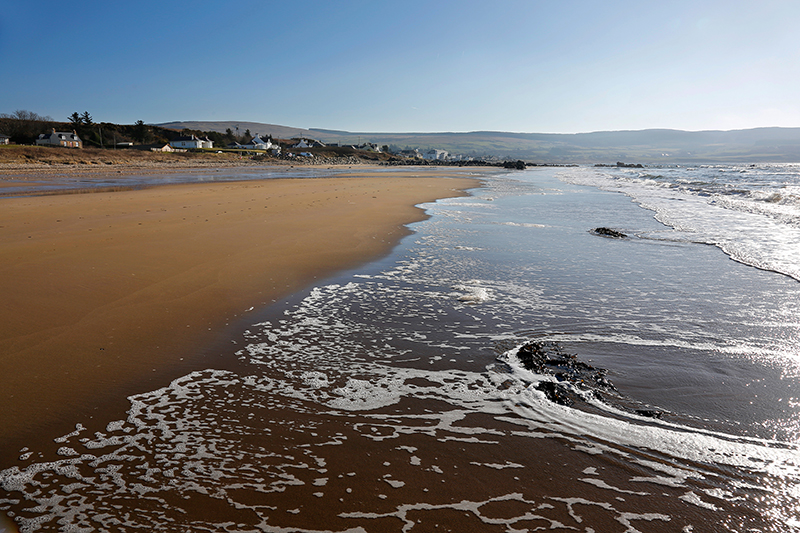 Day 2
The weather was glorious and we decided to drive around the bottom of the island and up the west coast to Blackwaterfoot. We passed many beautiful beaches on our way but tried to stay focused as we planned to re-visit them on another day. Reaching Blackwaterfoot, we wrapped up warm and started off on a superb coastal walk which visited a series of caves in the sandstone cliffs, the highlight of which is the KIng's Cave.
The sea was blue, the foam was white as the tide lapped on the shore and there was barely a cloud in the sky. Heaven. The shoreline was dotted with rocks and rock pools and photo opportunities abounded. As we rounded the end of the bay we picked our way along the clever footpath that runs through a boulder field forming part of the Arran Coastal Path.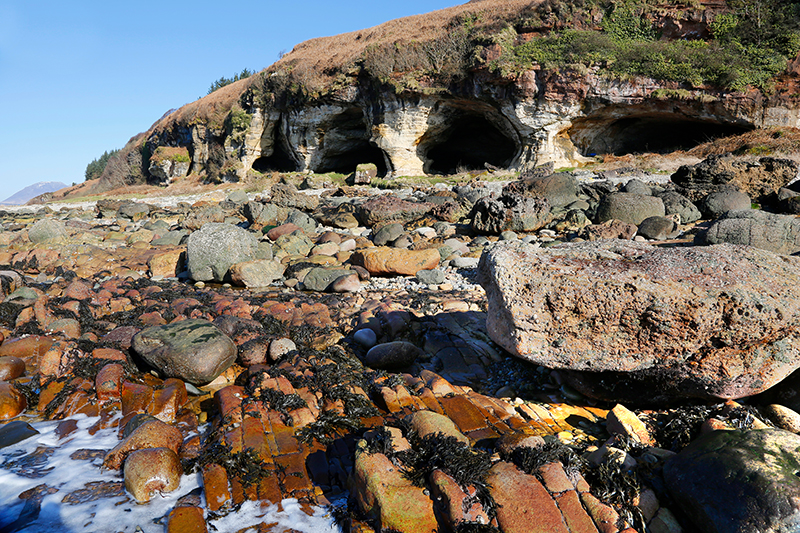 Historic King's Cave is one of several locations in which Robert the Bruce is said to have had his famed encounter with a spider. Despite the legends, it's unlikely that Robert the Bruce ever sheltered in the cave before the Battle of Bannockburn – or saw the famous spider. But it's still worth a visit for its superb location on a raised shingle beach and amazing inscriptions. Take a torch if you want to explore.
For some reason best known to ourselves, we then decided to climb up the steep path that leads to the top of the cliffs thinking we could return along the headland. There was no path back that way, but instead, there was a very pretty path leading through the dense woods back to a car park. It went on and on and we were still going in the wrong direction away from Blackwaterfoot after 30 minutes! Finally, we reached the road and returned to Blackwaterfoot along it. Tea and cakes at the Blackwaterfoot Golf Club were welcome on our return.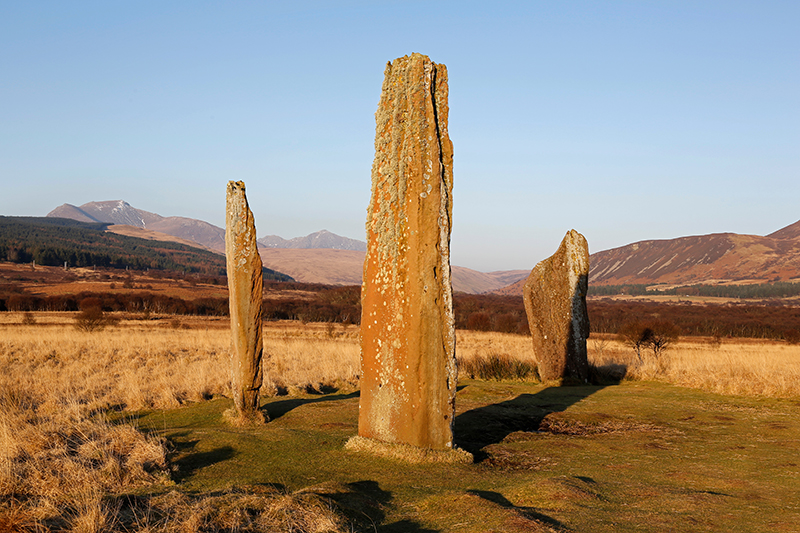 We returned to the car and carried on to catch the late afternoon sun at Machrie Moor to visit the famous stone circles. This rich archaeological site contains many stone circles, standing stones, burial cairns and hut circles all dating to between 3500 and 1500 BC. As it was off-season, we had it almost to ourselves. The stones were casting long shadows and the light was spectacular as we visited each location.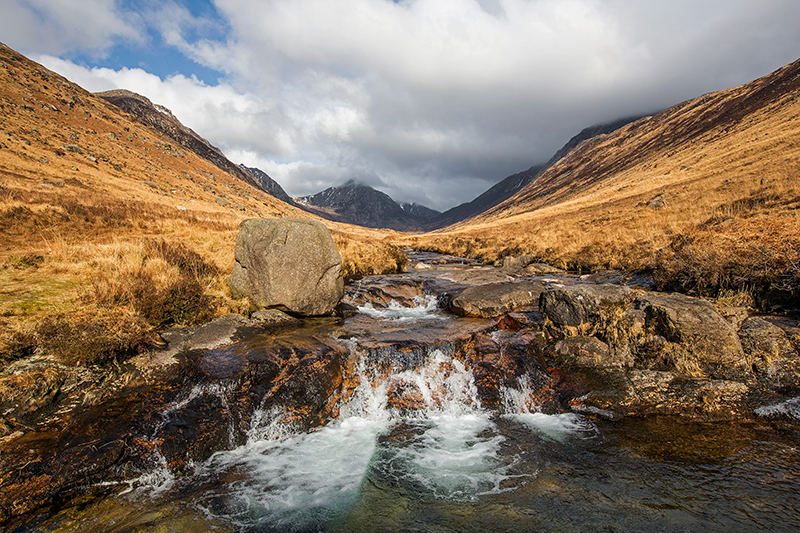 Day 3
There are two beautiful glens on Arran - Glen Rosa and Glen Sannox. It is possible to combine a walk up one and down the other crossing over 'The Saddle' by using the frequent bus service that runs around the island. It's a steep and slippy climb towards the top and Sheila didn't feel up to it so we opted for an in and out walk up Glen Rosa. The weather was perfect for photography - one minute the sun shone, the next great dark clouds came across accompanied by rain and hail. The changing conditions and light were spectacular. The views of the surrounding peaks as we walked up beside Glen Rosa Water were epic and continued to improve as the path led deeper into the glen, with the A'Chir ridge ahead and Cir Mhor emerging as the path curved northwards. Due to the low temperatures, there was still ice on the rocks in the river and icycles hanging from the trees alongside the waterfalls. There were so many photographic opportunities it was hard to make any forward progress! We turned around when the path started to climb in earnest and returned to the car.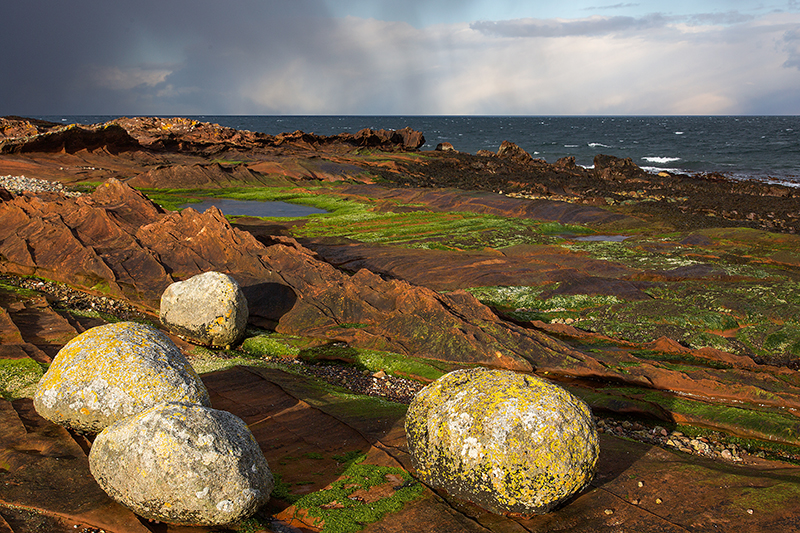 I wanted to catch the sunset at Pirates Cove at Corrie just north of Brodick. This is an idyllic seashore location. If you are lucky, you may find otters here and there are numerous shorebirds. But what I had come for, was to capture the famous rock formations called 'marbles' and the jagged sandstone formations often covered in bright green algae that run along the shoreline. Unfortunately, the weather deteriorated, and it was a case of waiting about for pockets of light to arrive which were few and far between. This is a great location which is so easily missed and one where you could spend hours just wandering around.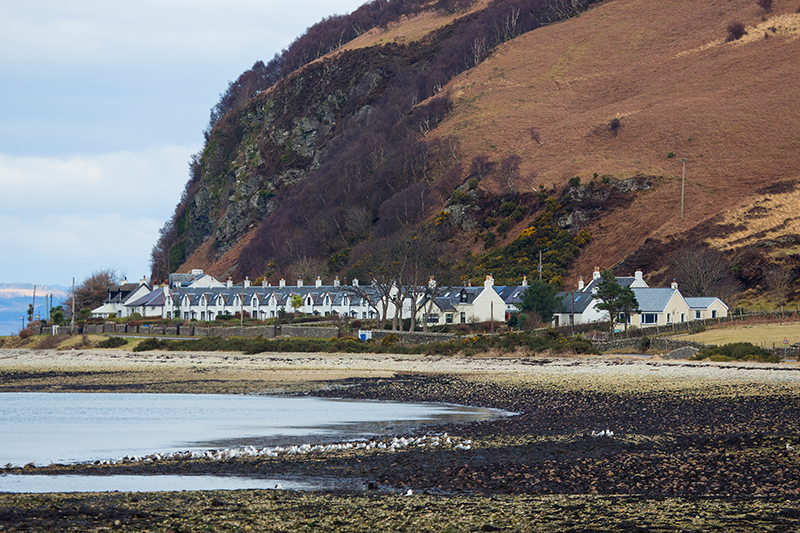 Day 4
This was our day to drive around the island. By now, the rest of Scotland was deep in snow which we had miraculously escaped but the weather was deteriorating and certainly not that which was forecast before we set off. We drove up the west coast to catch the morning light should there be any. There are some beautiful beaches along this coastline - some right by the roadside and others reached by a short walk. We stopped at many of then - Kildonan, Kilmory, Blackwaterfoot, Machrie and Pirnmill to mention just a few. In fact, there are great views from just about anywhere along this coast across the Kilbrannan Sound to Kintyre. You just need to find a safe place to stop and pull over. Just before you reach Lochranza, there is a famous row of cottages called The Twelve Apsotles at Catacol which I managed to capture despite the weather not being ideal.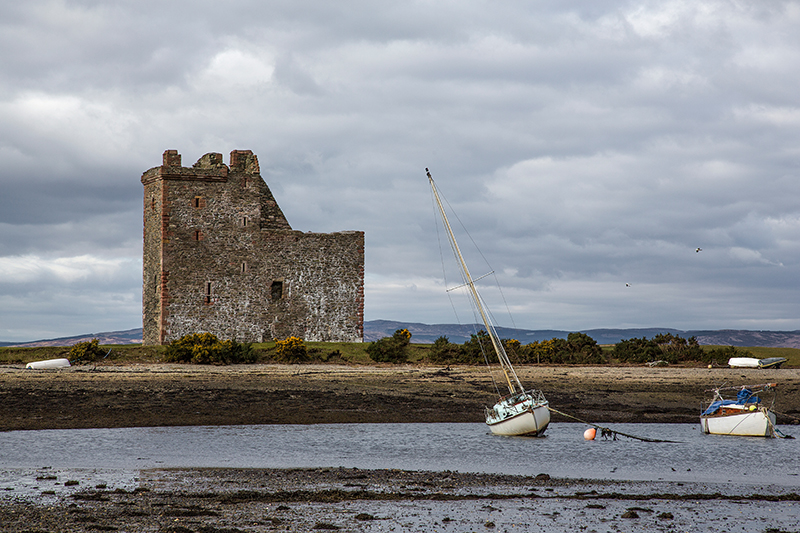 Eventually, we reached Lochranza with its famous ruined castle and lots of deer wandering the streets. Oh and there's the distillery - if you aren't driving, of course. I was, but Sheila took one for the team and drank my share. They serve a very nice lunch there. Unfortunately, the tide was out and there was no decent light but I managed to get in a few shots. The deer had wisely gone somewhere to shelter from the rain and bitterly cold wind.
The road between Lochranza and Sannox was closed for roadworks so we had to backtrack.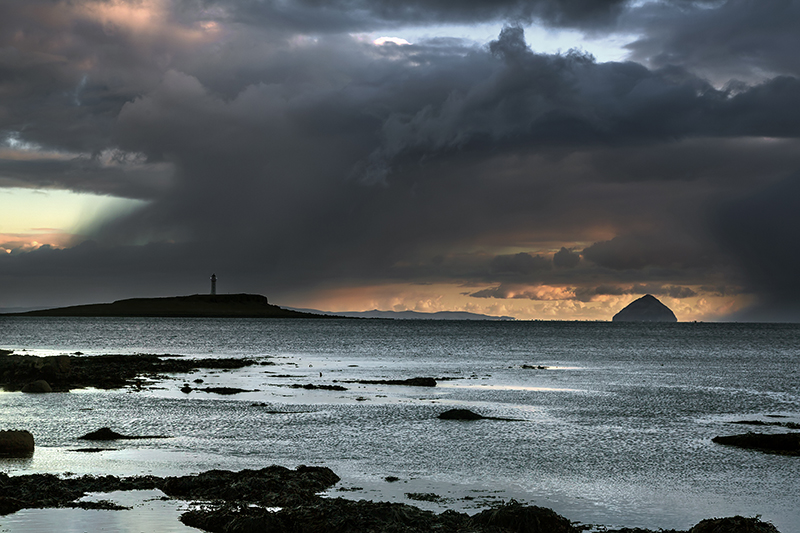 As we approached KIldonan it was getting quite late. We saw a small lane on the right going down to the village which we took. I stepped out of the car, walked about 100 yards and was hit by a sudden snowstorm. I rushed back and sat it out.
When it cleared, it revealed the most beautiful sunset. The lighthouse with its light twinkling on Pladda Island and Ailsa Craig were silhouetted against it across Pladda Sound. I stayed until it was almost dark. What a perfect end to a day.
Day 5
Sadly, we had to go home next day and face a long and dreadful journey home on icy roads with snow still falling. We never managed to get up Glen Sannox but did have a quick drive up that side of the island before we left. Despite the poor weather and low cloud, the scenery was still fantastic and we were sad to have missed it the previous day. It's always nice to have an excuse to return though.
The Isle of Arran is a wonderful place with diverse scenery, easy to reach locations and very friendly people. Every photographer should put it on their 'to do' list. Personally, I can't wait to get back there.
© Martin Lawrence Photography 2018